SEPTEMBER 10TH, 2012 : " PLACE CLICHY " FINALLY AVAILABLE !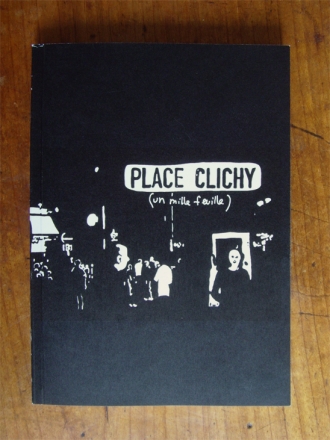 SOME  ALREADY HAD AN OUTLINE OF IT IN THE LAST MARKET OF THE POETRY (PARIS) : HERE IT IS!
THIS GRAPHIC BOOK - SUPPORTED BY CITY HALL OF THE 18EME DISTRICT OF PARIS – PROPOSES A TELESCOPIC AND INTIMATE VISION OF PLACE DE CLICHY IN PARIS, A KIND OF PRECIPITATE IN DRAWING MIXING SPACES, PERSONS, NEWS ITEMS, SOCIAL PHENOMENONS AND HISTORY : AN ATMOSPHERE BLACK AND WHITE WHICH PAYS TRIBUTE ON THE FAMOUS SQUARE …
ORDER IT AND TAKE ADVANTAGE OF FREE POSTAL CHARGES TILL THE END OF OCTOBER ON THE WHOLE CATALOG !
> author : Geneviève Hergott
> 14 x 19,5 cm
> 164 pages black and white
> under jacket and polypropylene envelope
> 15 euros