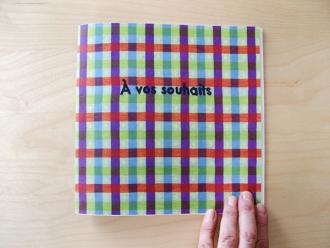 Embroidery is the craft which was passed down to Anaïs Beaulieu by her grand-mother, who had learned in turn from her mother, who had learned from her mother...
Anaïs' embroidery is illustrative, rooted in a confrontation between subject matter, technique and format. This enables the artist to give form to the images that she mostly finds on Google.
Her travels also influences her practice. They help her to focus on the polarities of a world she needs to transcend. As such, embroidery functions as a form of catharsis and gives her the possibility to turn lead into gold.
3rd PRINT (1st PRINT: MARCH 2017 - 200 copies, 2nd PRINT 2018 - 100 copies) ... PRICE UNCHANGED !
> 21 x 21 cm
> 40 pages in colour
> 100 copies, digital printing
> isbn 978-2-919289-39-4