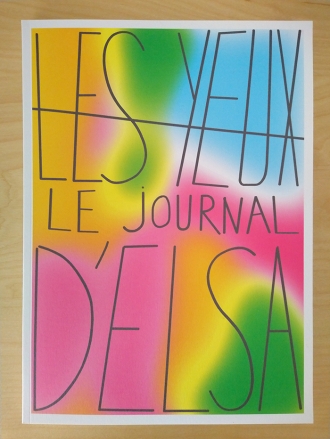 The artist's ritual consists of setting herself up each morning at her local bistro and breaking open a double blank page of her personal diary: drawing together a narrative thread which condenses  night-time dreams, her feelings and moods, she challenges and interrogates with the help of headlines, titles and other opening lines, all tightly held together in a series of columns contained on one page. Elsa Daynac cuts, pastes, dreams, « dissects », thinks, forgets, dabs, writes, crosses out, sketches.
She would have liked to have been the 'weather-girl' so she transcribes the temperature of the world in her notebook.
She would have liked to have been a butcher, so she slices together words and images.
She would have liked to have been a writer, so she collects opening phrases of novels she will never write.
…..
She would have liked many things, which she achieves in a small way, through her writing, and her untamed notebooks.
Elsa's diary is a collection made up of several large notebooks. This publication allows us to see some of those pages, just as they are.
> 21 x 29,7 cm
> 72 pages in colour
> 200 copies, digital print
> isbn 978-2-919289-60-8